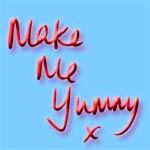 Its Saturday again already and that means time for another Blog Hop. For those of you who don't know I am on a mission to find beauty, fashion and fitness products/ accessories to make us Mummy's feel a little bit yummier. We are always so busy looking after our children and families we often neglect ourselves so I have been on the hunt to trial things and report back to you those that work.
I would also like to hear your tips so to join in all you have to do is write a short post or post a picture of something you think will make us feel yummy. Then add your name to the linky and feel free to grab my badge at the bottom too.
This weeks product is Happy feet by LUSH.
I was fortunate to be sent 2 of these fabulous new products to trial and had to tell you about them immediately.
Happy feet is a limited edition gift for the summer. It includes three footcare products and is presented in a lovely looking

reusable Knot-Wrap bag. Products include a Stepping Stone foot scrub to revive tired feet. A cooling and minty Fair Trade Foot Lotion and a Volcano foot mask to sooth and soften.
Each Happy Feet gift also comes with a free download from The Spell CD.
I got to trial the foot scrub and the Volcano foot mask but think it would have been nice to have finished off with the foot lotion too.
First the foot scrub. This smells gorgeous...very similar to avobath which is one of my favourite bath ballistics. You can see a review I have previously done on them here. It is bright green and has a very citrusy scent. You basically break a bit off and rub it into tired feet. It made mine feel all lovely and soft and smell delicious. A bonus when it comes to your feet.
Trialling
the volcano foot mask had my husband in hysterics. It comes in a little pot, is grey in colour with a grainy texture. You literally rub a bit all over your feet and then wrap them in cling film or plastic bags. Without any cling film I resorted to carrier bags as you can see from this photo (the things I do for my blog)
:
I must admit though, after ten minutes of relaxing with my feet like this, my feet felt lovely. I scrubbed it all off in the shower and it left my feet feeling all kind of clean and zingy!!
I would give these products a huge 9/10 and would love to try the lotion too. I am a huge fan of Lush products anyway and am going to add these products to my list of favourites.
So that's me for this week, over to you now. Cant wait to read all your top tips and discover some new products for myself. dont forget to grab my badge if you wish.