Last night we stopped halfway at my parents and today travelled another three hours onto the Wedding destination. The Wedding is tomorrow so we are sending two nights in a Hotel. For this reason we decided to pick up a few baby supplies. Up until now, Rosie has only had food freshly cooked and prepared by me. Now I am no Master Chef or anything but seeing as though I am at home all day I like to make it for her and feel as though I am giving her a good start in life.
So today Rosie had her first taste of Baby food. We settled on Ella's Kitchen and Plum as these were the only ones Poppy would eat when we needed them once on holiday. I was a bit worried I had made a mistake as they were textured rather than lumpy and she eats whole bits of penne pasta at home. Anyway I need not have worried. She wolfed them down. Daddy even tried them and said they were surprisingly good (I am vegetarian so didn't). I am not going to give up cooking or anything but I felt I should mention it for those of you who are thinking about giving jars.
On route we had to do a quick mad dash into some shops. Silly me had brought everything but the kitchen sink...oh and my shoes for the Wedding tomorrow!! I quickly ran into Next and picked up some new shiny black patent ones. It was the quickest shoe shopping I have ever done, but they are lovely!! Whilst there I also quickly picked up a few things for the girls.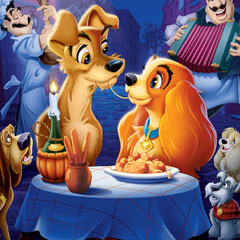 Tonight we all went out for Dinner to a gorgeous Italian restaurant. The staff were fantastic, very welcoming and child friendly and the girls were so well behaved, it was lovely. Poppy was delighted as she thought it was just like the restaurant in her book (Lady and the Tramp) and she told the waiter the food was delicious!!
It has been a long couple of days what with all the travelling, the girls are fast asleep so I think it might just be a bath and early night for me now.
Karen x